Hey team! We wanted to share with you a quick story. Check this out . . .[Tell your volunteers about a recent win in your ministry.]

Here are a few things coming up in our ministry . . .
ADD YOUR OWN DATES: RETREAT
This month, we're planning a weekend retreat designed to help students connect with God and with their small group. Get the details on our website!
ADD YOUR OWN DATES: VOLUNTEER MEETING(S)
As we get back into the rhythm after the holidays, it's almost time to learn and grow together at our next meeting of the year! We hope to see you there as we learn about [add your own topic(s)] together.
Let's celebrate the holidays with a little fun, food, and friends! Come hang with us. There will be games, presents, and zero meetings.
ADD YOUR OWN DATES: MISSION EXPERIENCE
This summer, we're taking teenagers on a mission experience! If you'd like to join us, make sure you're registered before the deadline.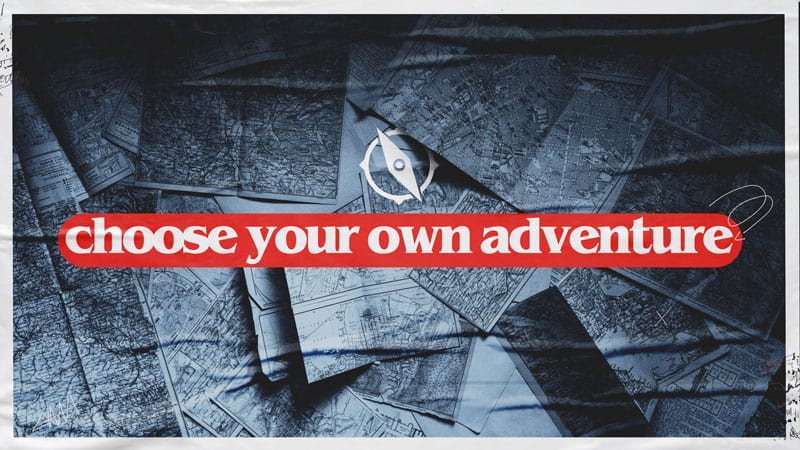 CHOOSE YOUR OWN ADVENTURE: A 4-WEEK SERIES ON THE 4 SPIRITUAL HABITS
WEEK 3 BIG IDEA: YOUR STORY IS STILL IN PROGRESS, NOT PROGRESS.
SERIES OVERVIEW:
Whether it's a journey to Mordor, The Upside Down, outer space, or wherever Forky ran off to this time, we all love a great adventure story. Maybe that's because, deep down, we know we're designed to live an adventure story of our own — and with Jesus, we can. There is no greater adventure than the journey of knowing God more deeply, so in this 4-week series, we'll talk about for ways we can do that: by spending time with God, spending time with others, sharing our stories, and using our gifts to serve others.

When's the last time you've shared your story of faith with someone? Did you know sharing your story can help you grow spiritually? It's true! Before we talk to teenagers about why this matters, think about what your story is and who you could share it with.

At least once this month, choose a volunteer to celebrate. Add their picture and a few sentences about what makes them awesome!

Survey time! How old were you when you first started dating?