This series might be the most challenging (and important) conversation we will have all year. We are so grateful that you are here to walk through this with teenagers!

Here are a few things coming up in our ministry . . .
ADD YOUR OWN DATES: MISSION EXPERIENCE
This summer, we're taking teenagers on a mission experience! Make sure your kid is registered before the deadline.
ADD YOUR OWN DATES: VOLUNTEER MEETING(S)
Thank you all for coming to last month's volunteer meeting! We have our final meeting of the year coming up in April, so make sure it's on your calendar! We hope to see you there as we learn about [add your own topic(s)] together.
ADD YOUR OWN DATES: SUMMER CAMP
This summer, we're planning an incredible camp experience for students! If you'd like to join us, make sure you're registered before the deadline.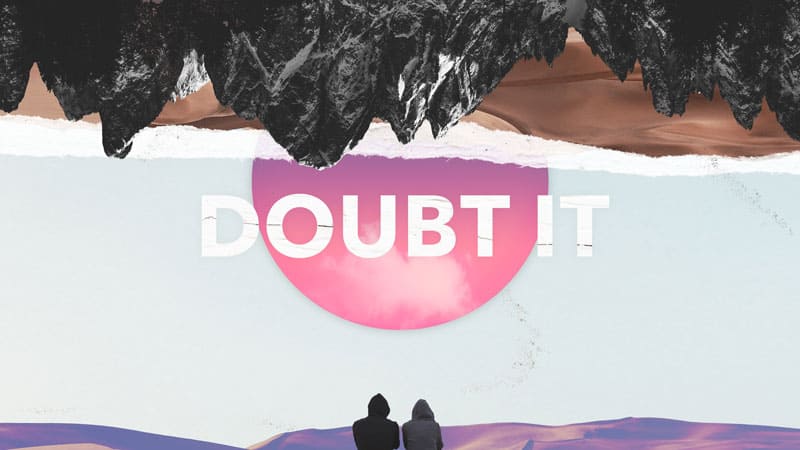 DOUBT IT: A 4-WEEK SERIES ON DOUBT
WEEK 1 BIG IDEA: YOU'RE NOT ALONE IN YOUR QUESTIONS
SERIES OVERVIEW:
We were all designed to ask questions. As toddlers, we constantly asked, "Why?" But as we get older, asking too many questions is often discouraged — especially when those questions are about our faith. But in this 4-week series, we'll talk about how having questions (and even doubts) about God might not be as scary or as shameful as we thought, because you're not alone in your questions, God doesn't shame us for our questions, our questions don't always get answered, and Godly people can help us with our questions.

It can be pretty terrifying when a teenager shares their big doubts and questions with you. You might be tempted to give a quick answer or shut down the conversation, but here's a tip: instead of trying to give great answers, try asking great questions. Your job is less about telling students the right answers and more about journeying with them as they learn to ask great questions and discover new truths. 
If you're subscribed to Grow Your Ministry, now would be a good time to attach Volunteer Tip Video #8 from your Volunteer section.

At least once this month, choose a volunteer to celebrate. Add their picture and a few sentences about what makes them awesome!

We're always trying to better understand what it's like to parent a teenager. So here's what we're wondering: if you're the parent of a teenager, what's the HARDEST thing about parenting your teenager right now? Hit Reply and let us know!